How Should I Choose the Executor of My Will?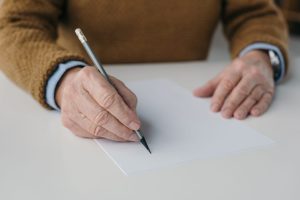 Creating a well-thought-out Will is one of the most important things you can do to protect your estate. Part of that process includes naming someone as the executor (or, as this role is sometimes referred to in Georgia, the personal representative). This is a vital role that shouldn't be decided on lightly. Many people opt for a family member, but there are situations where that's not the best choice. Before deciding on an executor, it's good to understand what an executor does so you can more mindfully evaluate your candidates.
What Does an Executor Do?
When probate is required, the person named as the executor of the Will is responsible for making sure the terms of the Will are carried out after the death of the person who created the Will. That doesn't mean just making sure all the assets of the estate are properly distributed to the named inheritors; it also means making sure the estate pays off any unpaid debts or taxes and completing any legally required paperwork (requirements vary by state).

In general, an executor must:
File the original Will with Georgia's probate court. 

Make sure the death is reported to all relevant banks, credit card companies, and government agencies. That includes the Social Security Administration (SSA). Usually, the funeral home will report the death to the SSA, but the executor should follow up to make sure that's done. The executor must file the final year's income taxes with the Internal Revenue Service.

Open and manage a bank account for funds still coming in, to pay bills, and to make other disbursements. The executor is responsible for making sure any outstanding debts and taxes are paid out of the estate as well as ensuring the assets are distributed according to the terms of the will.

In Georgia, the executor is required to file an inventory of the estate within four months of being appointed executor, unless that is waived by the terms of the Will. The inventory is a list of all the estate's assets and what they're worth. If not waived, this inventory must be updated annually until the estate is finalized. 

Annual returns are also required in Georgia, unless waived by the Will, and these involve reporting detailed, documented lists of all funds coming to or disbursed out of the estate. That means the executor has to keep updated, itemized records along with all relevant receipts.

If there is property involved, such as a home, vehicle, or safe deposit box at a bank, the executor is responsible for properly maintaining them until they're sold or distributed.
What Does Georgia Require of Someone to be an Executor?
Georgia has minimum qualifications for individuals to legally be named executors: They must be at least 18 years old, and they must not have been judged to be mentally incapacitated by a court. While some states don't allow people with felony convictions to be an executor, Georgia has no such restriction. Georgia also doesn't forbid out-of-state executors. Depending on the size and complexity of the estate, having someone local who's available on a day-to-day basis may be better.
What Qualities Should a Good Executor Have?
Most often, an individual is selected as opposed to an organization; the individual is likely better known to the estate and could be more easily trusted. However, if there isn't an individual available or trusted enough, an organization is a good option.

Often a family member is chosen, but that's not always ideal. In general, a good executor should be:
Highly organized, detail-oriented and not prone to procrastination.
Responsible and trustworthy.

This role requires a significant commitment to acting with the highest standards of ethics. If an individual is under consideration, asking for a background check and credit history is advisable. If an organization is under consideration, checking with the Better Business Bureau or the state's Attorney General's office for complaints, especially those related to being a fiduciary executor, is recommended.

Focused on the best interests of the beneficiaries rather than themselves.

This could mean using some of the estate's funds to hire professionals such as attorneys or accountants in order to ensure the estate is handled and distributed properly.

Healthy and not too old.

There's no guarantee for anyone in terms of health and age, but choosing an executor who's in good health and possibly younger is logical when planning for someone to outlive the person drawing up the Will. 

Calm in temperament with good communication skills.

A good executor will be able to manage potentially stressful situations, such as a family member contesting the will. They'll also be able to communicate regularly and clearly about what's happening with the estate to all relevant parties. The ability to build consensus is important.
How Can I Learn More about Choosing an Executor for My Will?
Call us as soon as possible at 770-758-6832 to request a strategy session. We know how important this decision can be, and we understand your concerns and needs. Our approach is to bring our experience and knowledge along with compassion and understanding to help you determine the best candidate to be the executor of your Will to protect your estate.