Amanda Mathis Riedling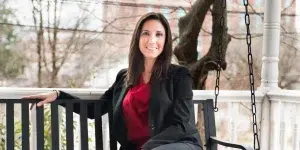 Amanda Mathis Riedling was born and raised in Cobb County, Georgia, before attending the University of Georgia where she received a B.B.A. in Finance from the Terry College of Business. Amanda graduated cum laude from the University of Georgia School of Law and has been a practicing attorney in Georgia since 2011. She is an owner and partner at the Georgia Wills, Trusts, and Probate Firm, LLC (formerly Levine & Riedling, LLC) located in Marietta, GA. She helps clients prevent the death or incapacity of a loved one from becoming the death of a family. She provides well-reasoned and effective estate planning services and assists clients with professional and ethical solutions if a dispute arises over an estate.
Amanda taught Probate and Estate Planning at Chattahoochee Technical College for its paralegal program for five years and has served as a Guardian Ad Litem or Court-Appointed Attorney for minor children and adult wards in Probate Court. Amanda also provides mediation services for probate and adult guardianship cases and is certified to mediate court-ordered mediations.
Amanda has been recognized locally and state-wide for her ethics, professionalism, and community service. She received the Ross Adams Younger Lawyer Award from the Cobb County Bar Association in 2015. In the same year, she was awarded the Georgia State Bar Ethics and Professionalism Award by the state Younger Lawyer's Division. She has been named Volunteer of the Month by the Cobb Justice Foundation and has received recognition annually for donating more than 50 hours of pro bono work each year, and in 2019 the Cobb Justice Foundation awarded Amanda with the Richard L. Moore Volunteer of the Year award. Amanda not only takes private pro bono cases from Legal Aid and the Cobb Justice Foundation, but she is a regular volunteer at the Probate Clinic in Cobb County. She was recognized as a Super Lawyers Rising Star in 2019 and 2020.
Amanda is highly involved in the Cobb County Bar Association where she served as President of its Younger Lawyer's Division from 2018-2019, during which she chaired the Second Annual March Madness Happy Hour fundraiser that raised funds for the Accountability Courts in Cobb County. She was first elected to the Board of Trustees for the Cobb Bar for the 2019-2020 year and was just re-elected for the 2020-2021 year. Amanda has served on the "Sleighbells on the Square" committee for many years which raises money for the Cobb County Children's Emergency Fund. She has been a part of the Cobb Justice Foundation's "Justice Jam" every year since the event was created, which raises funds for Atlanta Legal Aid. She became a co-chair of the event in 2018 and continues to serve in that position.
In her spare time, she enjoys reading, salsa dancing, taking classes on her Peloton bike, and spending time with her husband and three dogs.
Experience
Law School: University of Georgia School of Law, cum laude
Undergraduate: University of Georgia School of Law, B.B.A. Finance from the Terry College of Business
Community Involvement:
Member and Trustee at Large, Cobb County Bar Association
Member and Past President (2018-2019), Younger Lawyers Division, Cobb County Bar Association
Member and Past President (2015-2016), Solo/Small Firm Section, Cobb County Bar Association
Member, Elder Law Section of the Cobb County Bar Association
Member, Trial Lawyers Section of the Cobb County Bar Association
Member, Georgia Bar
Board Member, Cobb Justice Foundation
Co-Chair, Justice Jam (2018 and 2019), Fundraiser for Atlanta Legal Aid
Committee Member, Sleighbells on the Square, Fundraiser benefiting the Children's Emergency Fund
Chair (2019) and Co-Chair (2018)-March Madness Happy Hour, Fundraiser benefiting the Cobb County Accountability Courts
Awards:
Richard L. Moore Volunteer of the Year by Cobb Justice Foundation – 2019
Super Lawyers Rising Star – 2019
Ross Adams Younger Lawyer Award – 2015
Georgia Bar Ethics and Professionalism Award (YLD) – 2015
Volunteer of the Month-Legal Aid